The steep-tiered south stand is now visible for the first time following installation of the terracing. Virtually all of the double-stepped concrete terracing units are now in place in the stand, which will eventually house more than 13,000 spectators.
With the terracing now in place, contractor Laing O'Rourke is now installing the blue seating in the upper sections. All the seating is expected to be installed by Christmas.
On the outside of the south stand, the external façade is taking shape with the installation of the angle glazing panels that extend along the entire length of the stand. These panels are angled to reflect the water in Nelson Dock, tying the building into its surroundings.
Contractors have also installed the first of the huge loudspeaker clusters in the roofspace of the north stand. These units will eventually be suspended in all four stands as part of the public address system.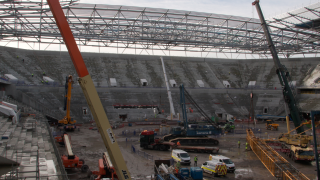 Another noticeable change on-site is the departure of the last 600-tonne capacity crawler cranes that have been used in the construction of the stadium's roof structure.
With the crane now gone a service tunnel, left open in the east stand to provide access to the pitch area, can now be closed off ready for the lower terracing units to be installed